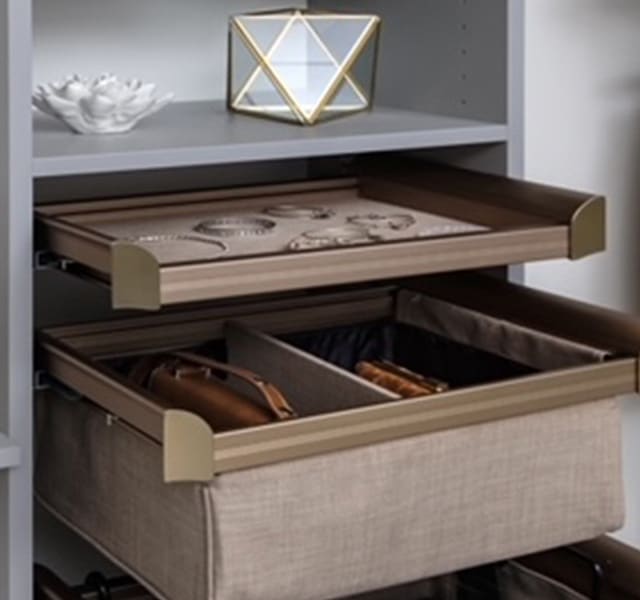 Walk-in Closet Company in Toronto, ON
Have you ever dreamed of turning that spare bedroom into a custom-designed walk-in closet? At Organized Lifestylez, our expert team of Design Technicians is prepared to transform your spare bedroom, den, or nook into a beautifully crafted walk-in closet that you will never want to leave! Bring luxury to your home with a custom walk-in closet in Toronto and the surrounding GTA (Greater Toronto Area) with organization and closet storage solutions and accessories from Organized Lifestylez which will turn your home into a showpiece.
Key Product Features: Our Design Ethos
As experienced contractors, our design ethos is simple: no matter how big or small the space, we provide lasting design solutions that will rethink how your closet functions, bringing not only function but style and luxury to your walk-in closet. From 100% Canadian made materials and walk-in closet design ideas from our trusted, experienced team, you won't know how you ever lived without your new walk-in closet. Your closet is more than just storage- it's where you and your loved ones prepare to face the day and put their best foot forward. With that in mind, our team at Organized Lifestylez ensures our high-quality products will stand the test of time
for you and your family.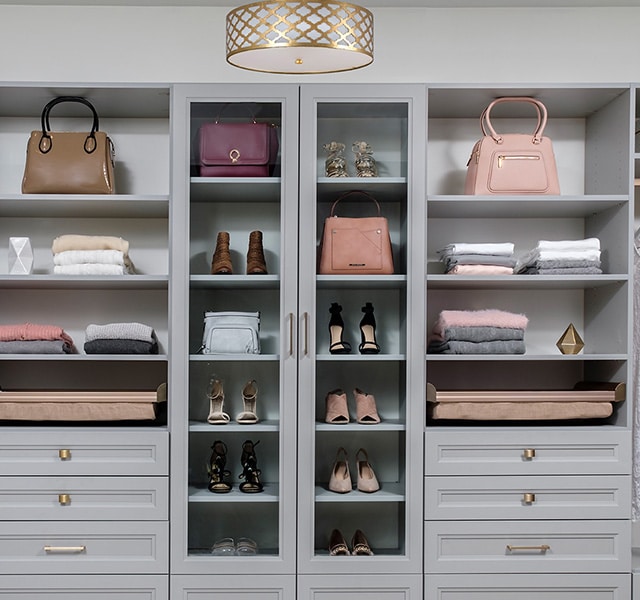 Walk-in Closet Design Toronto
Are you considering a walk-in closet for your Toronto or GTA home, but can't decide the best design or style for your needs? Whether it's formal wear, casual ensembles, or accessories, you need a closet that not only stores your clothing but displays it with your needs in mind.

Customized to fit your exact style and function, Organized Lifestylez provides custom-designed walk-in closets designed within our 3D software, ensuring your project is professionally installed down to the last centimetre.
Custom Walk-in Closets Toronto Designed for You.
Your walk-in closet needs to keep all of your clothing, outerwear, shoes, and jewelry organized in a way that sparks joy in your home. After months and years, your closet starts to overflow and begins to get chaotic.

Sound familiar?

Our custom walk-in closets can bring organization to the mess and keep your things organized in a way that keeps everything within reach. Increase the value of your home with a luxurious walk-in closet and take advantage of unused space in your home.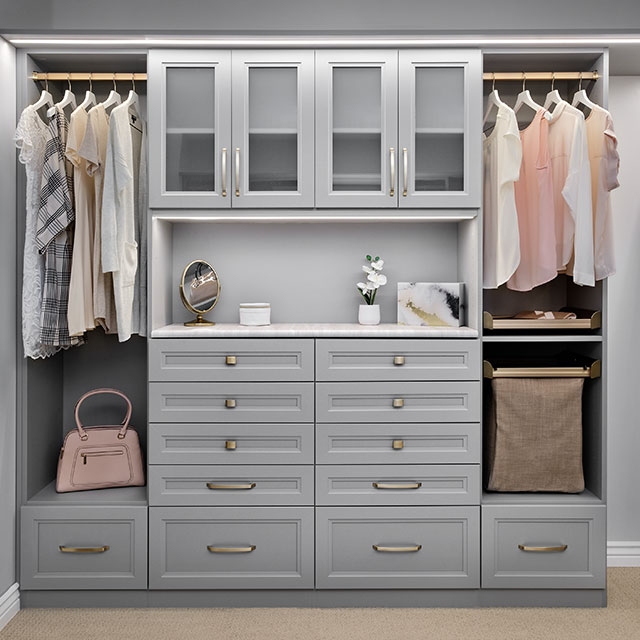 Our Walk-in Closet Systems & Guarantee
At Organized Lifestylez, you have endless options to design your walk-in closet with our unique organization solutions that bring together cabinets, lighting, mirror inserts, and polished, luxurious hardware. Our design technicians are talented with lighting, carpentry, and home décor and can guarantee we will treat your home with as much care and attention as our own.
Schedule your own luxury closet consultation now to have the closet of your dreams brought to life in realistic 3D. See the Organized Lifestylez difference for yourself now from the comfort of your home. Click below.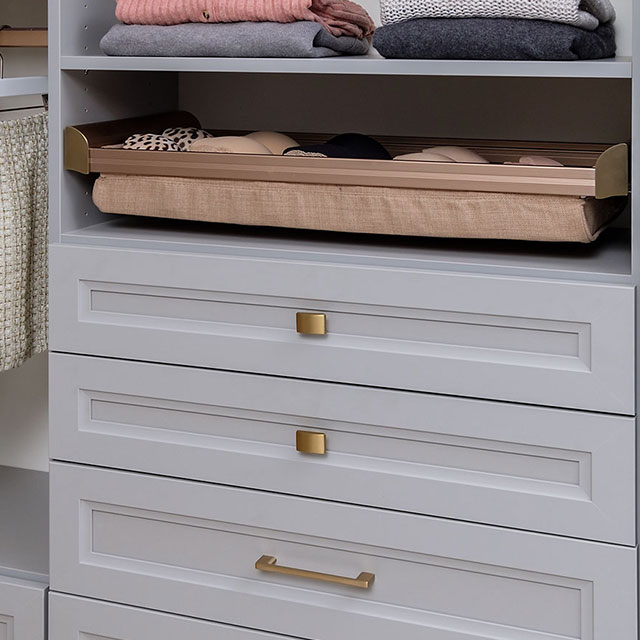 Why Our Closet Solutions Stand Out
Rethinking your current closet? Let our team show you what is possible with our exclusive closet systems and organization solutions. Take your spare room to the next level with a selection of popular hardware, finishes, and accessories ranging from traditional to modern. Match your home's style with comprehensive closet systems that incorporate shelving, lighting, drawers, islands, and more to bring luxury into your home.
ABOUT ORGANIZED LIFESTYLEZ
With a showroom in North York (temporarily closed for renovations), and a dedicated team of design experts, Organized Lifestylez are fully equipped to make your closet your home's greatest feature. Let us increase the value of your home with a closet that showcases your wardrobe with style and a wide range of products to help you organize with enough design options to give you the exact look you want. Organized Lifestylez provides home organization solutions for every room in your home so you can make the most of your space. Obtain a quote and 3D photos in minutes using our innovative technology in the comfort of your own home or schedule an in-home (or virtual) consultation with our design consultants
YOUR DREAM DRESSING ROOM
If you have a spare room or den getting very little use and only collecting dust, consider turning it into a Dressing Room! Having your own luxurious dressing room with room for your dresses, outerwear, shoes, and more in plain sight, bringing peace of mind to your wardrobe. Recreate your unused space with our expert Design team who can provide you with dressing room designs and ideas to give you the space you dream of. Not quite what you're looking for? Contact us now and plan the walk-in closet organization solutions and decor you need in any room in your home.
DECORATIVE HARDWARE, CABINETS, AND ACCESSORIES
Our team takes great pride in the quality of our work and organization solutions. We are able to provide Walk-in closets with the highest quality materials and construction to ensure your closet lasts. Our closets and home storage solutions come in a collection of styles, knobs, handles, and finishes to match your style. Each of our 10 finishes comes in 5 design styles that would make a beautiful addition to your home. Our cabinets, shelving, and drawers are built to hold and display all of your personal belongings. From shoe shelves to multiple areas to hang your dresses, blazers, and outerwear separately, our walk-in closets can provide you a lasting solution.
CONVERT ANY ROOM INTO A WALK-IN CLOSET IN THE GTA
With our modular organization systems, we are able to turn just about any room in your home into a walk-in closet. Some places we can convert into a walk-in closet:
● Master Bedroom
● Partitions
● Spare Rooms
● Dens
● Unused Basement Space
● And More custom solutions - Call now 416-997-795
THE MOST TRUSTED COMPANY IN TORONTO FOR CUSTOM WALK-IN CLOSETS
Get the walk-in closet you have always dreamed of with Organized Lifestylez. Contact our design team to gain private access to our 3D Solution Finder and see your room brought to life in realistic 3D. Our team is now serving homeowners and business owners in:
● Toronto
● North York
● Oakville
● Mississauga
● Markham
● & The Greater Toronto Area
Schedule a free consultation with one of our staff today, or call us now at 416-997-7951. Virtual consultations available!