Custom Mudroom Closets and Storage in Toronto
Custom Mudroom Closets in Toronto
Are you tired of shoes, coats, and purses taking up valuable space in your entryway? Are you fed up with dirt and grime being tracked through your nice, clean home?
Organized Lifestylez offers an easy solution to these problems: A custom mudroom closet or mudroom wardrobe.
The addition of some well-designed shelves and organization tools can eliminate clutter at the front door (or any other entryway) and totally transform your home.
Our team is here to help you update your home by designing and installing the perfect mudroom storage solution in no time.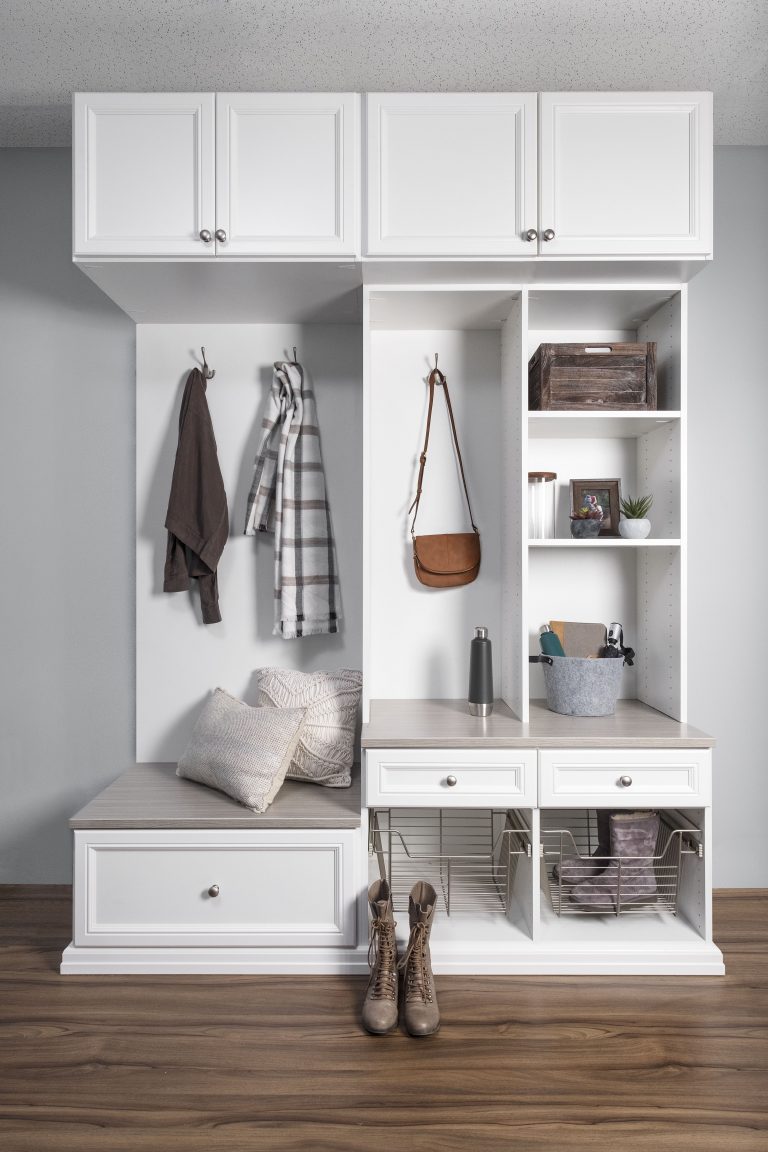 Why Do You Need a Mudroom Closet?
Is a mudroom closet a necessary addition to your house?
Even if your home is too small for a separate mudroom, a mudroom closet or wardrobe still has a lot of benefits to offer, including the following:
Extra Storage
What's one thing we could all use in our homes? More storage space!
A mudroom closet helps you to maximize the space in the entryway to your home.
Adding a mudroom closet or wardrobe gives you more room to store coats, shoes, purses, and backpacks, as well as all the other items that tend to get dropped at the front door when you and your family members come home from school or work.
As a bonus, increasing storage space also increases the resale value of your home.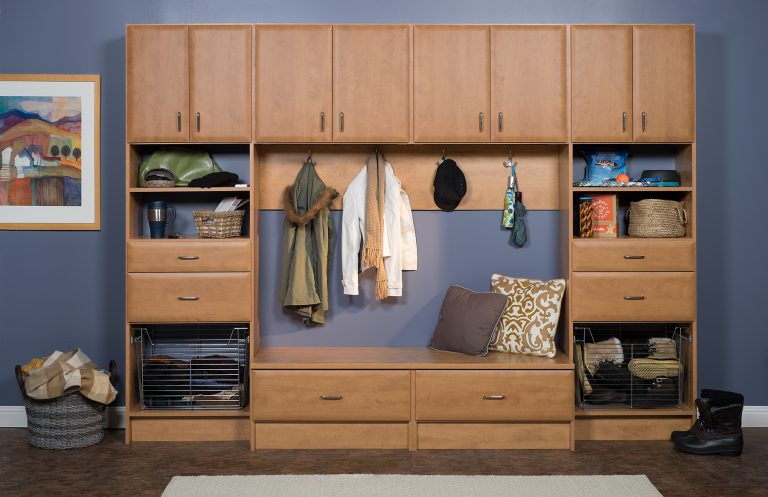 Less Mess
In addition to giving you more storage space, a mudroom closet helps you to keep your home clean and sanitized, too.
Have you ever thought about how much dirt and grime gets stuck to the bottom of your shoes? Have you considered that that same dirt and grime is also getting tracked throughout your house because you don't have a dedicated place to store your shoes when you walk in?
A mudroom closet makes it easy for you and your family to take off your shoes and put them away when they enter the house. This minimizes the spread of germs. It also saves you from having to mop up muddy footprints every day.
Versatility – Consider Mudroom Cubbies, Cabinets, or Closets
Mudroom closets are super-versatile. In addition to storing coats and bags in them, you can also store other household items, such as cleaning supplies, sports equipment, or hobby equipment.
A mudroom closet gives you a landing space for all of those items that don't have a dedicated space and create clutter in your home. Add one to the entryway (or to any part of your home) to make your home feel cleaner and more streamlined, no matter how small it might be.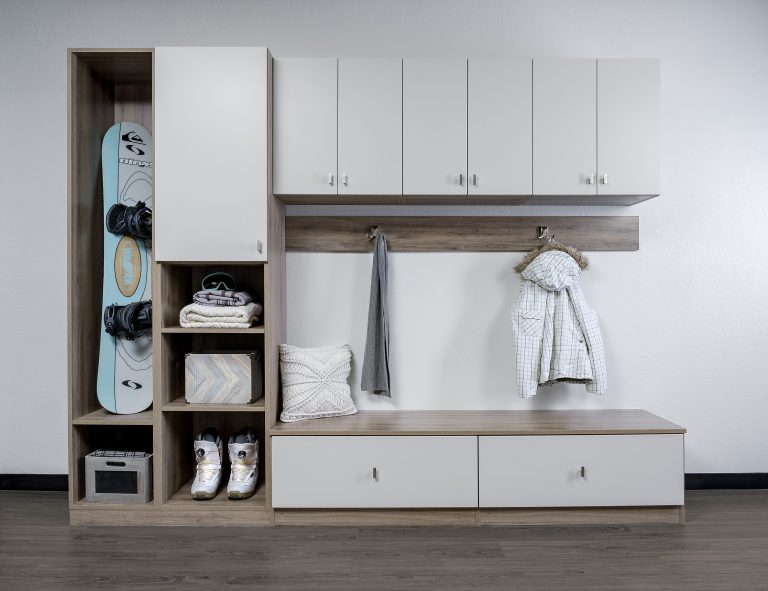 Not sure how to incorporate mudroom storage into your home? Here are some mudroom ideas to inspire you:
Upgrade the Entryway
If you need mudroom ideas for small spaces, a good option is to upgrade your entryway. Adding shelving or other storage solutions to the area near your front door is an excellent way to clear clutter and keep your home organized.
Level Up the Laundry Room
Lots of people also use their laundry room as a mudroom. If you have an outside door that leads into your laundry room, this is an especially good choice.
Not sure how to maximize the space in your laundry room? Our team is always happy to share laundry mudroom storage ideas.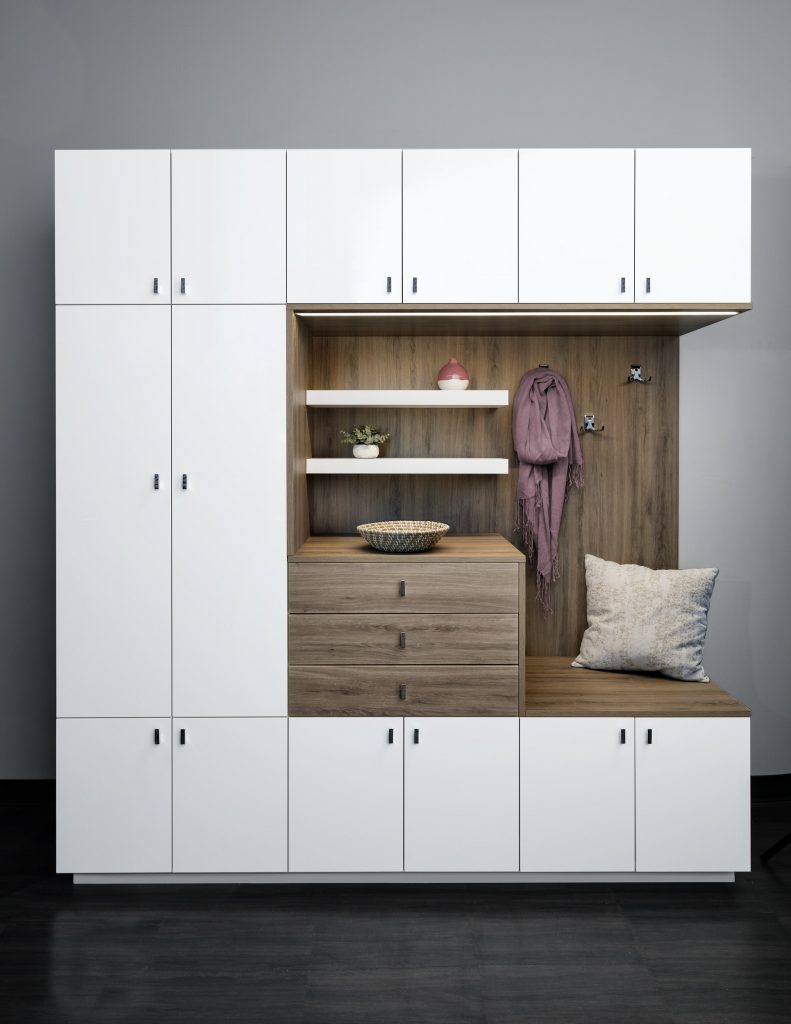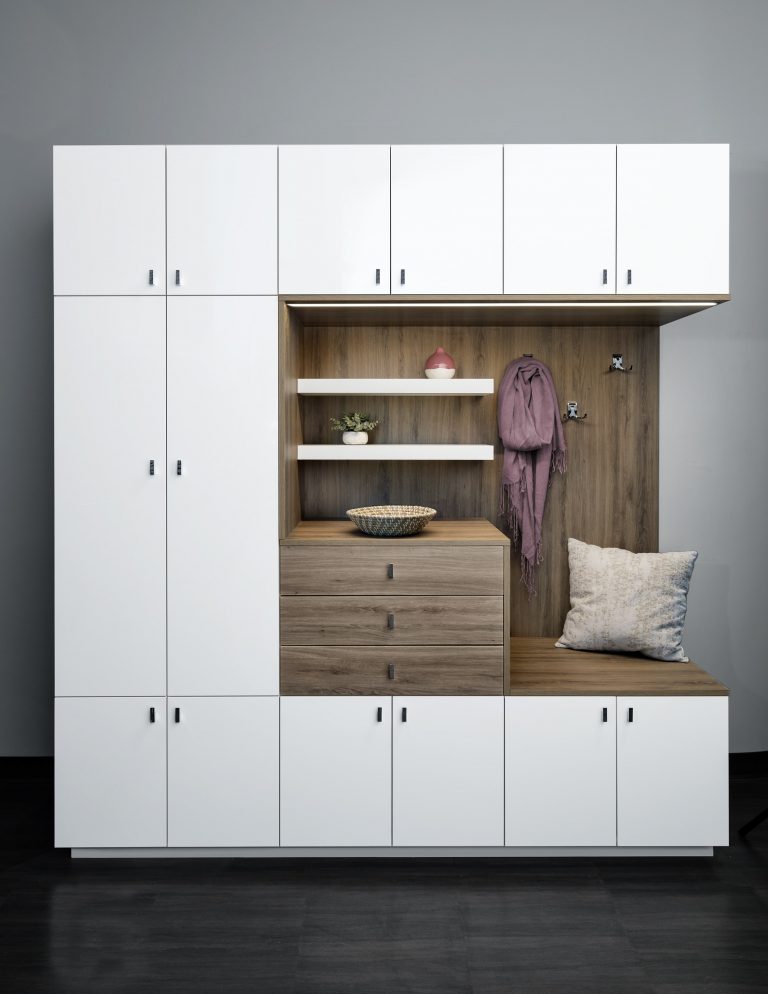 Convert a Coat Closet
It's also easy to turn a closet into a mudroom. If you have a coat closet in your entryway, our team can make some simple adjustments to utilize the space your home offers and convert it into a mudroom closet.
Convert Part of the Kitchen
You may want to consider converting part of your kitchen into a mudroom, too. If you have an outside door that leads into the kitchen, we can convert some of the closest cabinets into a mudroom closet and give you some much-needed organization and storage options.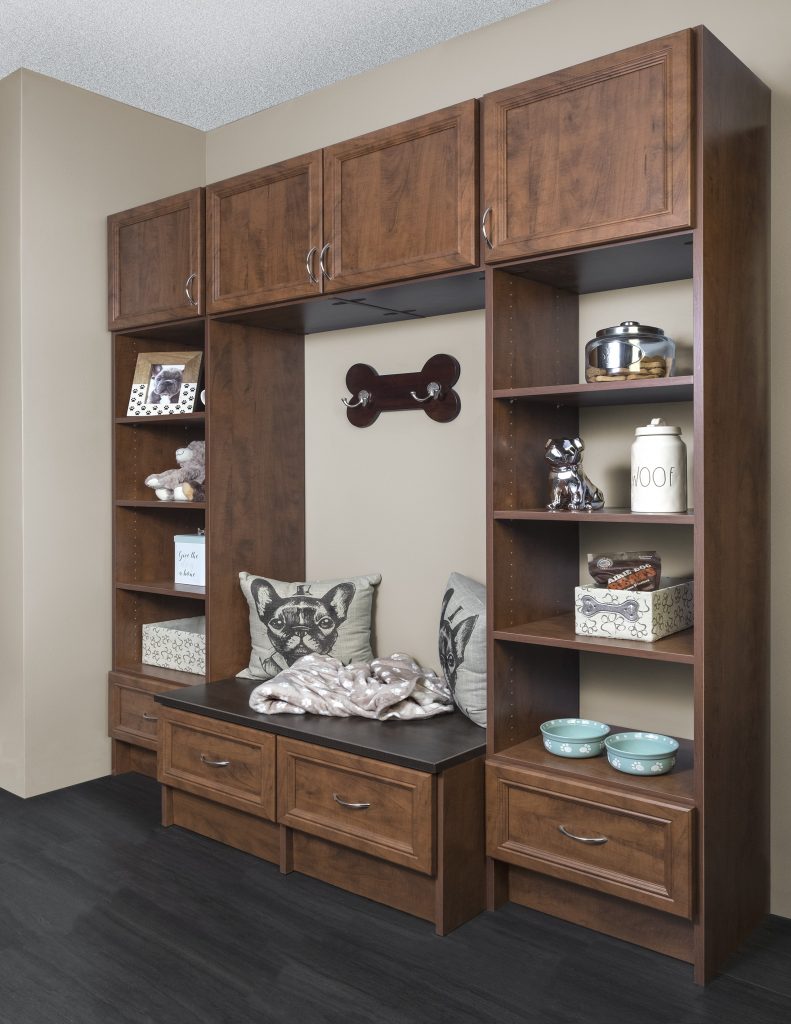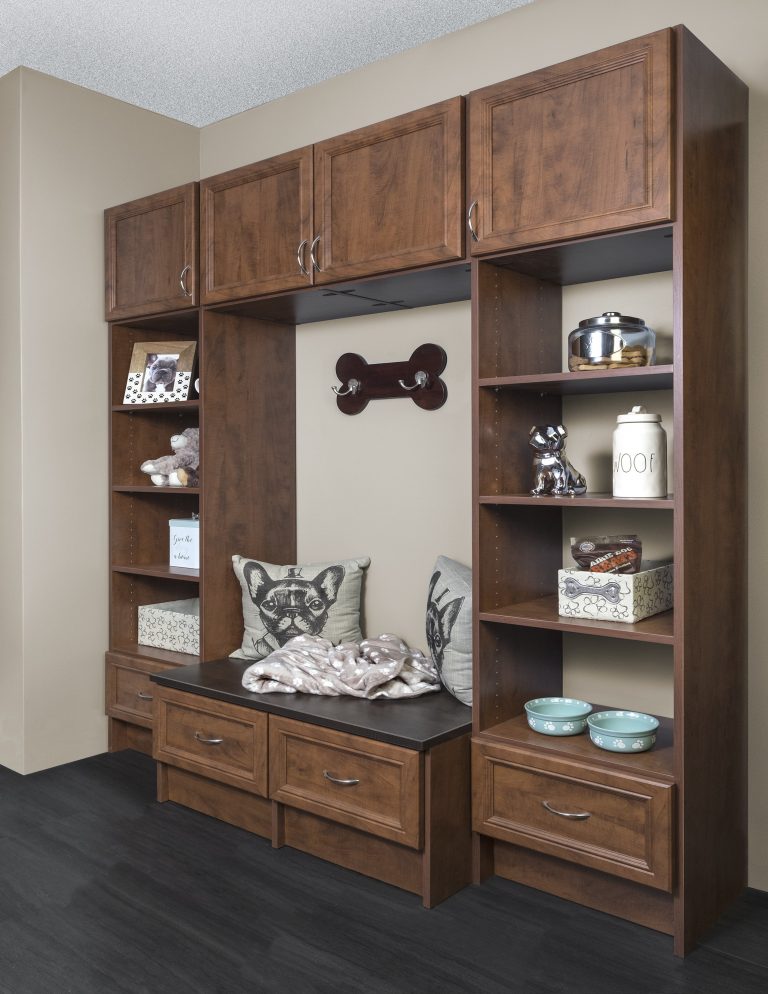 Our Custom Entertainment Units Ideas Come to Life
Not sure what you want for your custom entertainment units?
We're happy to help you come up with ideas that work for your space, so you can spend more time with your loved ones.
If you need inspiration, take a look at our portfolio to see some of the best custom entertainment units in Toronto has to offer.
ABOUT ORGANIZED LIFESTYLEZ
At Organized Lifestylez, we partner with our customers to create attractive, high-quality, custom organization solutions for every room in their home.
From custom home offices to mudroom wardrobes, we can help you organize any room and make the most of your space.
HOW WE PLAN MUDROOM CLOSET DESIGN IN TORONTO FOR YOUR HOUSE 
What happens when you partner with us to create your dream mudroom closet?
We start with a complimentary consultation. During this meeting (which can take place in-person or virtually), we'll take a look at your home, assess the space where you want the closet to be, and listen to your ideas for the mudroom closet design.
After our consultation, we'll take your ideas, needs, and suggestions into account and start the design process. Our team will create and share 3D plans to help you get a clear idea of how your mudroom closet will look.
From here, you can make changes and suggestions to get the exact mudroom closet you've always wanted. Once you're satisfied with the design, we'll finalize the order and schedule your installation date.
.
OUR MUDROOM STORAGE INSTALLATION PROCESS 
When you're happy with your custom mudroom design, we'll plan a date and time to install your closet and transform your home.
All Organized Lifestylez installations are performed by licensed contractors. Everyone on our team has years of installation experience and knows how to get the job done right.
We pride ourselves on swift, seamless closet installations. We know that your time is valuable, and we don't want to take up any more than we need to. In most cases, we get the job done in one day, so you can start putting your mudroom closet to the test right away.
Get a Custom Mudroom Designed in Toronto for You
Have you been inspired by these mudroom design solutions? Are you ready to install a mudroom closet in your home? If you're looking for a high-quality custom mudroom in Toronto, we're here to help at Organized Lifestylez.
We currently design and install mudroom closets for customers in the Greater Toronto Area, including Toronto, Markham, Mississauga, North York, and Oakville.
Contact us today to schedule a free consultation (in-person or online).