Garage Storage Solutions Toronto
Garage Storage Company in Toronto
Is your garage overflowing with clutter? Let us help you!
With garage slat panels on the walls, shelving, lockers, or perhaps a small workshop makeover, we can help you create a space that's right for you. Whether you simply need better storage or the ultimate man cave we can help you create your vision.
Are you tired of the chaos in your Garage from all of your
sports equipment, tools, or hobby gear?
We can custom build garage storage cabinets that get everything off the ground and into its own organized space.
Already have an idea what you're looking for? Contact us now here for a free consultation or call now at 647-64EPOXY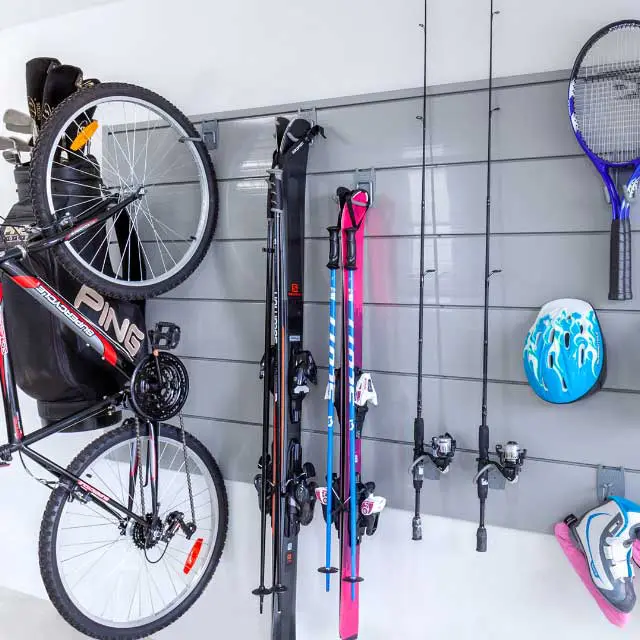 Custom Garage Cabinets, Shelving & Storage
Needless to say, your garage is not only for parking your car. If you use your space for your favorite hobby or project, give it the dedicated area it deserves with our custom garage storage systems. Arrange everything you need so it is ready when you need it. Our garage cabinets and storage are made to sustain the wear and tear of your toughest hobby or pastime.

Our custom cabinets provide you with extended space and organization to make sure your tools and clutter don't get in the way of you enjoying your next project. Rely on us to create a design that matches your specific needs and increases the value of your garage. Make your exterior space liveable and keep your power tools and all other types of equipment safe, out of the way, and secure.
With 10 unique finishes that come in 5 design styles, our cabinets will transform your workshop or garage space into a livable room in your home. Compare your options today with our Solutions Finder 3D tool – contact us now.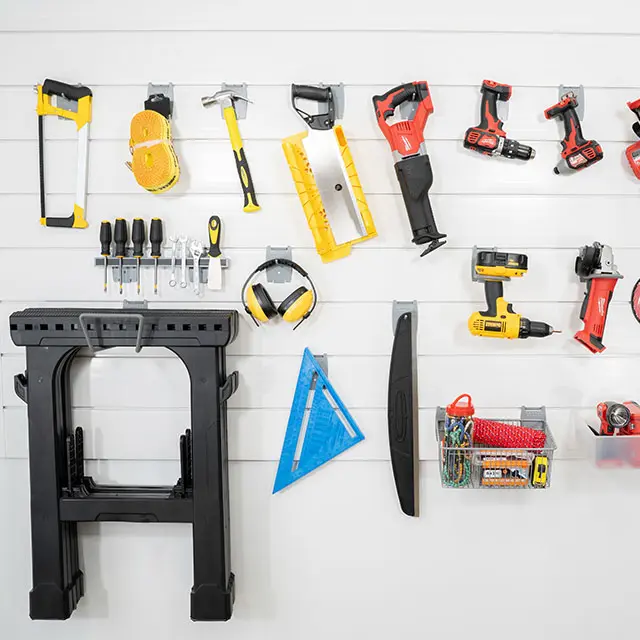 Garage Slat Wall Racking Systems Toronto
When your kids are busy with sports and your family has a lot of hobbies, your garage can start to get chaotic fast. Our garage slat wall solutions and accessories can help you with whatever your unique organization challenges call for.
Our modular and custom cabinetry systems pair well with our slatwall and racking accessories to give your garage wall storage and specialty storage where you need it most. Contact us now to learn more!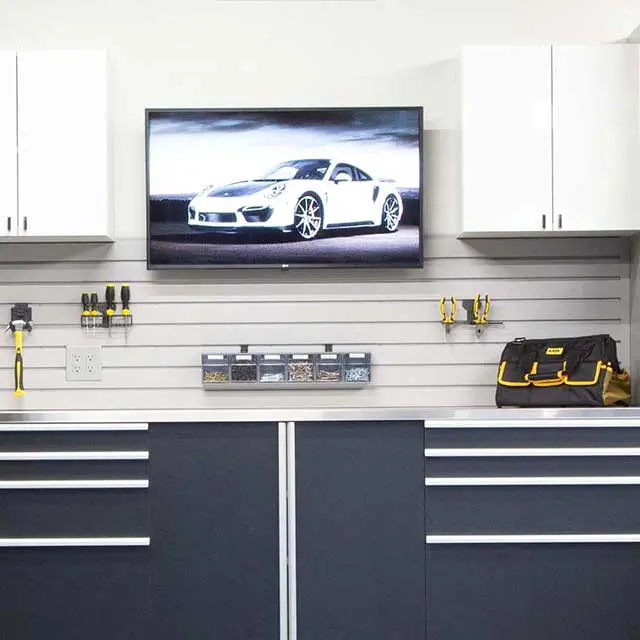 Showcase your vehicles with Garage Epoxy Flooring
Do you love your cars as much as they love you? Give your luxury (and family) vehicle the home they deserve with garage storage solutions and epoxy flooring to match. Transform your garage with slat wall and shelving for your winter tires, alongside custom cabinets and drawers for all of your tools and power equipment. Learn more about our Garage Epoxy Flooring available in Toronto and the GTA.
Take your garage from a cluttered mess of workbenches, lawnmowers, and bicycles into an attractive yet functional storage space that feels like home. Contact us now to gain access to our Solution Finder and see our cabinets in realistic 3D in your home now